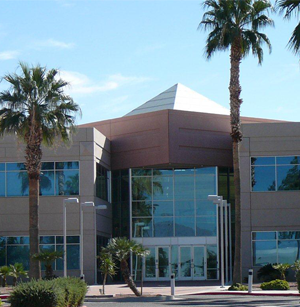 Colliers International Completes $18.95 Million Sale of 143,650 SF Office in Tucson
Largest Office Investment Sale in Tucson by SF in 6 Years
Colliers International in Greater Phoenix recently completed the sale of a 143,650-square-foot Class A office building for $18.95 million, or $131.95 a square foot.
W. P. Carey Inc. on behalf of CPA®:17 – Global, one of its managed REITs, purchased the building, which is leased to a single tenant. The seller was Summit Properties of Seattle.
Neil Glassmoyer, senior vice president; Tivon Moffitt, vice president; and Peter Bauman, senior associate; all of Colliers International in Greater Phoenix, served as brokers for the buyer and seller.
"The transaction is the largest office sale in Tucson based on square footage since January of 2008 and involves one of the highest quality assets in the market," Moffitt said.
"This sale shows demand for assets in the Tucson market that have investment-grade tenants," Bauman said.
Constructed in 2002, the building is located at 3350 E. Hemisphere Loop in Tucson and is situated on 16 acres at the Tucson International Business Center.
"The buyer acquired this Class A office building well below replacement cost with a high-quality tenant in place," Glassmoyer said.
Gino Sabatini, W. P. Carey Managing Director and Co-Head of Global Investments, noted, "The quality of the tenant and the criticality of the asset to their operations made this an attractive investment for W. P. Carey. The building's size along with significant improvements made by the tenant are key factors in meeting the tenant's unique requirements and consequently enhanced the investment value of the asset for us."
About Colliers International

Colliers International is a global leader in commercial real estate services, with over 15,800 professionals operating out of more than 485 offices in 63 countries. A subsidiary of FirstService Corporation, Colliers International delivers a full range of services to real estate users, owners and investors worldwide, including global corporate solutions, brokerage, property and asset management, hotel investment sales and consulting, valuation, consulting and appraisal services, mortgage banking and insightful research. The latest annual survey by the Lipsey Company ranked Colliers International as the second-most recognized commercial real estate firm in the world.
For the latest news from Colliers International, visit colliers.com/us/news or follow us on Twitter: @ColliersIntl
Colliers International in Greater Phoenix has served clients locally and globally for more than 30 years.