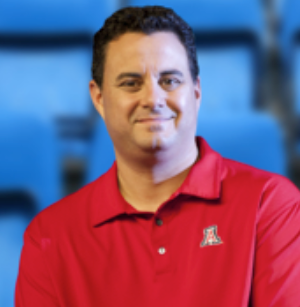 Coach Sean Miller Commercials Win National Awards
Hughes Federal Credit Union, received five Diamond Awards from the Credit Union National Association (CUNA) Marketing & Business Development Council, a national network of more than 1,100 credit union professionals from around the nation.
The Diamond Award is CUNA's top award, which recognizes outstanding marketing achievements in the credit union industry.
Hughes Federal Credit Union was acknowledged for three television commercials featuring University of Arizona® Men's Basketball Coach Sean Miller and Naismith Memorial Hall of Fame Coach Lute Olson; brand awareness of the Credit Union and their UA™ Visa® Debit Card through their association with Coach Miller; and for their fully responsive website redesign of their site at www.HughesFCU.org. The Diamond Awards were presented to Hughes for credit unions in the $500 million to $1 billion asset category.
"The Diamond Award competition is the most prestigious competition for excellence in marketing and business development in the credit union industry," said Kellie Terhune Neely, Vice President of Marketing at Hughes Federal Credit Union. "Hughes is honored to have received national recognition for our marketing efforts with Coach Sean Miller for the past four years."
"Hughes Federal Credit Union thanks the Caliber Group and Litteer Films for their advertising, website, TV commercial and production services. The Credit Union also thanks IMG Sports Marketing, Arizona Athletics, University of Arizona School of Dance, and the Arizona Pomline for their support and partnership in our marketing efforts," said Terhune Neely who was the national CUNA Marketing Professional of the Year in 2010.
Award winners were recognized at CUNA's 21st annual conference held March 12-15 in Orlando, FL. To view the award-winning Hughes Federal Credit Union TV commercials visit www.youtube.com/user/hughesfcuaz. For more information about Hughes Federal Credit Union, visit www.HughesFCU.org.
Established 62 years ago, Hughes Federal Credit Union has more than 80,000 members and $764 million dollars in assets. The credit union has a "Superior" 5-Star Bauer Financial rating and is one of the strongest financial institutions in the nation. It is also A+ rated and has been accredited by the Better Business Bureau since 1974. This Credit Union is federally-insured by the National Credit Union Administration. University of Arizona® is a trademark of The University of Arizona and is used with permission. Visa® is a registered trademark of Visa International Service Association.
Award-Winning TV Commercials
Fan Dance – www.youtube.com/watch?v=DWN11O0mf9c
Movie Trailer – www.youtube.com/watch?v=RTg-WS_3QAs
Mobile Coach
Ending #1 – www.youtube.com/watch?v=hsvz-uns4CQ
Ending #2 – www.youtube.com/watch?v=P24ozJzu_yo
Ending #3 – www.youtube.com/watch?v=RhJtk_AfWJQ
Ending #4 – www.youtube.com/watch?v=NQ8YEHdQtL0