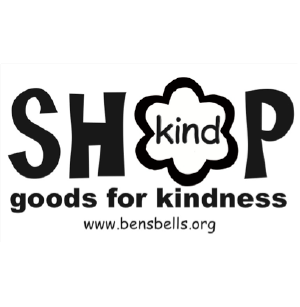 BEN'S BELLS TO OPEN A NEW STORE LOCATION – Shop KIND: Goods for Kindness!
Continuing in our mission of spreading intentional kindness in the Tucson community and beyond, Ben's Bells is opening its first dedicated 'be kind' store, Shop KIND: Goods for Kindness, on Saturday, March 29, 2014 @ 10AM. The store will be located adjacent to our Downtown studio at 40 W. Broadway Boulevard.
Expanding on the selection of Ben's Bells made items we currently offer, we have reached out to local artists, craftspeople and businesses to help us produce a mix of one-of-a-kind merchandise and create a completely unique shopping experience. As our Shop KIND mission statement proclaims:
Shop KIND is more than just a store. Every handmade and hand-selected item sold helps fund our kindness education programs and furthers our mission of encouraging the practice of intentional kindness. Our "Goods for Kindness" are literally that. It's purpose-driven shopping that impacts you and your entire community.
In celebration of the new store and to mark the twelfth anniversary of Ben Maré Packard's death, a mass distribution of Ben's Bells will take place all day Saturday, March 29, 2014 throughout Tucson, Phoenix and Newtown, CT. We will also have a special gift for everyone that visits Shop KIND that day.
We are thrilled to bring a brand new retail option to the newly revitalized Downtown core and to provide everyone the opportunity to support our kindness education programs. We look forward to seeing you at Shop KIND!