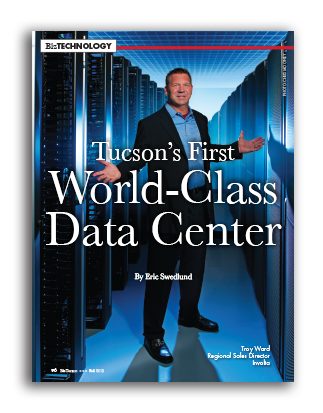 Tucson's First World-Class Data Center
By Eric Swedlund
Tucson's first world-class data center launched operations earlier this year in a $15 million, 38,000-square-foot facility that offers secure storage and IT solutions, allowing companies and organizations to focus on their core business.
Involta, based in Cedar Rapids, Iowa, unveiled its seventh facility with a grand opening ceremony in April. Tucson is Involta's largest market and largest single facility – a Tier III multiple tenant data center that exceeds industry standards for temperature and climate control, power redundancy and security and monitoring.
Companies like Involta make Tucson more attractive to businesses considering opening up shop here.
"We looked at Tucson and it was the largest community without a world-class facility like this," said Bruce Lehrman, Involta founder and CEO. "This is not only good for Involta, this is good for the community as well. In this age, having a data center is like having electricity or an Interstate highway."
In 2010, Involta was ranked by Inc. 500 as the 40th fastest growing private company in the country. In addition to Tucson, the company operates data centers in Iowa, Idaho, Minnesota and Ohio.
"IT has really changed over the last couple decades," Lehrman said. "Today, IT is mission critical. Everybody in an organization needs to be set up and operational 24/7. To do that kind of redundancy and resiliency is expensive."
Troy Ward, regional sales director, said Involta "allows companies to leverage expertise and facilities that were not an option in the region prior to Involta coming to Tucson.
"We see Involta playing a part in helping the Southern Arizona regional business community to grow," Ward added.
Lonnie Bloomquist, Involta's chief technology officer, said all systems in the facility are built as "N+1" to have a redundant backup. As far as security, an iris scan is required to access the racks of servers, which are in separate and isolated rooms, so only those with proper authority can access the space.
Mechanical rooms are also separate from the data storage rooms. The facility has dual power feeds and can run on generator power at any time. For connectivity, Involta is carrier neutral, wired with redundant fiber optic cables from CenturyLink, Cox and tw telecom.
Tier III is the second-highest level under industry standards. The facility has the space for 145 cabinets in the first bay and will have four bays when it is fully built.
The facility will have the capability to store multiple petabytes – or multiple millions of gigabytes – when it's completed, Bloomquist said.
The building currently has 10,000 square feet of office space and 5,000 square feet of space for data storage and support. The center's expansion depends on customer demand, but as an example, Bloomquist said he opened a 10,000-square-foot data center in 2004 and filled it within 18 months.
Involta has customers in a variety of industries and public organizations, including healthcare, government, education and large enterprise, and is adding more every day, Bloomquist said. Asarco is among its first local clients.
Involta removes technological headaches for clients by allowing them to basically outsource the entire IT operation, from data backup to routine day-to-day activity. Involta complies with SSAE 16 standards for controlled audits and reporting.
"To a customer who has a need for up-time 100 percent of the time, the cloud kind of scares them," Bloomquist said. "Where is your data? Involta provides those types of cloud services in a facility they know is redundant and secure. Most cloud providers don't have those capabilities. It's more than running storage. It's pulling it all together in a system for our customers. We are supplying multiple systems in IT."
Involta opened its Tucson operation with two employees, with an expected three more hires in the near future and up to 20 employees in all. While not a large employer, the data center becomes crucial to other employers.
"We can serve huge companies now," Bloomquist said. "A data center like this really drives the community's ability to serve high-tech companies."
Involta would not typically retrofit an exiting facility for a data storage center, but was able to save significant capital by converting the former Aurora Optical facility near South Park Avenue and East Ajo Way.
Tucson Electric Power worked closely with Involta throughout the process of locating and building the data center.
"This is the future of this community, just like the other components of the infrastructure," said Larry Lucero, senior director of government and external affairs for UNS Energy Corporation.
Blake Wetzel, VP of sales for CenturyLink, said he has worked with hundreds of data centers across the country and "Involta has been the single best partnership we've had.
"IT is changing massively and that means customers are relying on organizations like Involta," he said. " Businesses can grow because they can focus on their own business."
David Welsh, executive VP for strategic partnerships at Tucson Regional Economic Opportunities, said that his job as a salesman for Tucson as a destination for new businesses becomes easier with Involta's presence. TREO was part of a team that was instrumental in bringing the new company to Tucson.
"We're thrilled to have another arrow in the quiver. This will pay benefits as we go out and tell the world that Tucson is a great place to do business. This asset added to our base is going to be incredibly valuable," he said.
Mike Varney, president and CEO of Tucson Metro Chamber, said Involta's new data center makes Tucson a more attractive place to locate a business.
"It's very exciting to see a company like this plant some seeds in the Tucson community. We don't see things like this popping up every day and it underscores the commitment Involta has made in Tucson. It provides one more reason for companies to come to Tucson," he said.
Mayor Jonathan Rothschild said high-tech and clean industries make Tucson attractive to new businesses and Involta's reputation of reliability will count for a lot.
"There are many reasons it makes sense for Involta to be in Tucson – and we're glad they made the right choice," Rothschild said.