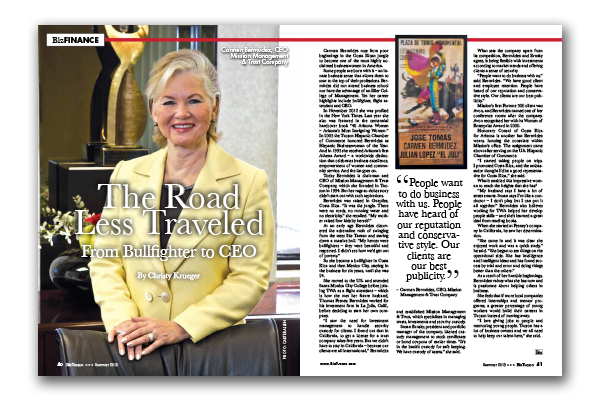 The Road Less Traveled – From Bullfighter to CEO
By Christy Krueger
Carmen Bermúdez rose from poor beginnings in the Costa Rican jungle to become one of the most highly acclaimed businesswomen in America.
Some people are born with it – an innate business sense that allows them to soar to the top of their professions. Bermúdez did not attend business school nor have the advantage of an Eller College of Management. Yet her career highlights include bullfighter, flight attendant and CEO.
In November 2012 she was profiled in the New York Times. Last year she also was featured in the centennial hardcover book "48 Arizona Women – Arizona's Most Intriguing Women." In 2005 the Tucson Hispanic Chamber of Commerce honored Bermúdez as Hispanic Businesswoman of the Year. And in 1995 she received Arizona's first Athena Award – a worldwide distinction that celebrates business excellence, empowerment of women and community service. And the list goes on.
Today Bermúdez is chairman and CEO of Mission Management & Trust Company, which she founded in Tucson in 1994. But her rags-to-riches story didn't start out with such aspirations.
Bermúdez was raised in Guapiles, Costa Rica. "It was the jungle. There were no roads, no running water and no electricity," she recalled. "My mother raised four kids by herself."
At an early age Bermúdez discovered the adrenaline rush of swinging from the trees like Tarzan and staring down a massive bull. "My heroes were bullfighters – they were beautiful and respected. I didn't see how we'd get out of poverty."
So she became a bullfighter in Costa Rica and then Mexico City, staying in the business for six years, until she was 24.
She moved to the U.S. and attended Santa Monica City College before joining TWA as a flight attendant – which is how she met her future husband, Thomas Feeney. Bermúdez worked for his investment firm in La Jolla, Calif., before deciding to start her own company.
"I saw the need for investment management to handle security custody for clients. I found out that in California, to get a license for a trust company takes five years. But we didn't have to stay in California – because our clients are all international," Bermúdez explained. So she moved to Tucson and established Mission Management & Trust, which specializes in managing trusts, investments and security custody.
Susan Ernsky, president and portfolio manager of the company, likened custody management to stock certificates or bond coupons of earlier times. "It's in the bank's custody for safe keeping. We have custody of assets," she said.
What sets the company apart from its competition, Bermúdez and Ernsky agree, is being flexible with investments according to market trends and offering clients a sense of security.
"People want to do business with us," said Bermúdez. "We have good client and employee retention. People have heard of our reputation and conservative style. Our clients are our best publicity."
Mission's first Fortune 500 client was Avon, and Bermúdez named one of her conference rooms after the company. Avon recognized her with its Women of Enterprise Award in 2000.
Honorary Consul of Costa Rica for Arizona is another hat Bermúdez wears, housing the consulate within Mission's office. The assignment came about after serving on the U.S. Hispanic Chamber of Commerce.
"I started taking people on trips. I promoted Costa Rica, and the ambassador thought I'd be a good representative for Costa Rica," she said.
What's enabled this impressive woman to reach the heights that she has?
"My husband says I have a lot of street smarts. Susan says I'm like a conductor – I don't play, but I can put it all together." Bermúdez also believes working for TWA helped her develop people skills – and she's learned a great deal from reading books.
When she started at Feeney's company in California, he saw her determination.
"She came in and it was clear she enjoyed work and was a quick study," he said. "She began to see things on the operational side. She has intelligence and intelligent ideas and has found success by trial and error and doing things better than the others."
As a result of her humble beginnings, Bermúdez values what she has now and is passionate about helping others in business.
She feels that if more local companies offered internships and mentor programs, a greater percentage of young workers would build their careers in Tucson instead of moving away.
"I love giving jobs to people and mentoring young people. Tucson has a lot of business owners and we all need to help keep our talent here," she said.