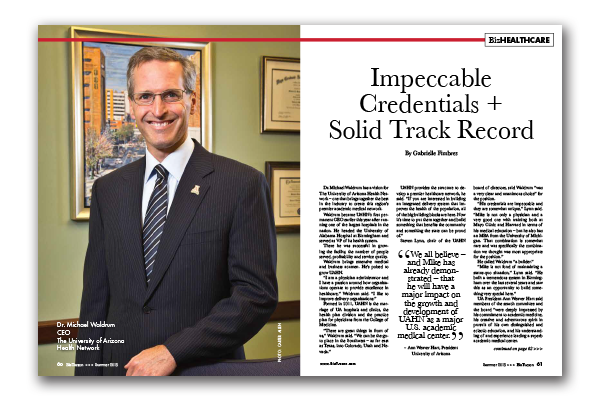 Impeccable Credentials + Solid Track Record
By Gabrielle Fimbres
Dr. Michael Waldrum has a vision for The University of Arizona Health Network – one that brings together the best in the industry to create this region's premier academic medical network.
Waldrum became UAHN's first permanent CEO earlier this year after running one of the largest hospitals in the nation. He headed the University of Alabama Hospital at Birmingham and served as VP of its health system.
There he was successful in growing the facility, the number of people served, profitability and service quality.
Waldrum brings extensive medical and business acumen. He's poised to grow UAHN.
"I am a physician administrator and I have a passion around how organizations operate to provide excellence in healthcare," Waldrum said. "I like to improve delivery organizations."
Formed in 2011, UAHN is the marriage of UA hospitals and clinics, the health plan division and the practice plan for physicians from the College of Medicine.
"There are great things in front of us," Waldrum said. "We can be the go-to place in the Southwest – as far east as Texas, into Colorado, Utah and Nevada."
UAHN provides the structure to develop a premier healthcare network, he said. "If you are interested in building an integrated delivery system that improves the health of the population, all of the big building blocks are here. Now it's time to put them together and build something that benefits the community and something the state can be proud of."
Steven Lynn, chair of the UAHN board of directors, said Waldrum "was a very clear and unanimous choice" for the position.
"His credentials are impeccable and they are somewhat unique," Lynn said. "Mike is not only a physician and a very good one with training both at Mayo Clinic and Harvard in terms of his medical education – but he also has an MBA from the University of Michigan. That combination is somewhat rare and was specifically the combination we thought was most appropriate for the position."
He called Waldrum "a builder."
"Mike is not fond of maintaining a status-quo situation," Lynn said. "He built a tremendous system in Birmingham over the last several years and saw this as an opportunity to build something very special here."
UA President Ann Weaver Hart said members of the search committee and the board "were deeply impressed by his commitment to academic medicine, his creative and adventurous spirit in pursuit of his own distinguished and eclectic education, and his understanding of and experience leading a superb academic medical center.
"We all believe – and Mike has already demonstrated – that he will have a major impact on the growth and development of UAHN as a major U.S. academic medical center, contributing to the growth and development of education, research and clinical care in the College of Medicine as well," Hart continued. "I am so enjoying working with him as an inclusive, insightful and expert partner in the health enterprise at the University of Arizona."
Waldrum seems to have settled right in. He has an autographed ball from the Wildcat basketball team in his office, presented to him the day he was introduced to UA supporters.
This father of four moved to Tucson with Susan, his wife of 28 years, and their youngest child, Sarah Nance, 15.
"We got married the month before I started medical school," Waldrum said. "Susan has been a great life partner."
The Waldrums also have three older children – Annie, a nurse practitioner who lives in Boston with her husband, Hudson, who is completing his MBA at Harvard; Julia, who is getting her master's degree in elementary education in Atlanta, and Michael, a student at Auburn University.
Following his success in Birmingham, Waldrum said he was ready to make an impact at in UA.
"When I was called about this opportunity I had been reflecting on my life and career and the desire to grow and learn," said Waldrum, an intensive care physician and epidemiologist.
"It was an opportunity to help an organization that has a tradition that's strong – University of Arizona being such a world-class organization," Waldrum said. "But the healthcare part of the organization has had a lot of turmoil over the last five years or so and frankly hasn't been living up to its potential."
With no permanent CEO in place and turnover in administration at The University of Arizona Medical Center, the organization of 6,500 employees was in need of leadership, Waldrum said.
"We must leverage the fact that we are the only academic medical center in Arizona. We educate the future leaders, we do innovation and research and we have very high-end services that the community needs – including transplant and Level 1 trauma services," Waldrum said.
The network also serves as the safety net provider to those who are uninsured or underinsured – a pressing issue with the implementation of the Affordable Care Act and questions surrounding the state's expansion of its Medicaid program known as AHCCCS.
"If we expand and we cover the population, the health of the population will be better," Waldrum said.
If Medicaid is not expanded, the network would face significant budget cuts.
"We spend a lot of money taking care of patients who cannot afford it – because we think it's the right thing to do," he said. "We also spend a lot of money to educate physicians and we don't get reimbursed for their education time. If reimbursement goes down, we will have to make cuts."
He said the uncertainty "makes us look at doing things differently than we have in the past and find ways to improve efficiencies and processes of care – and that's good."
Waldrum said he was drawn to the "great tradition of care" at UA. He was gifted with a yellowing copy of a newspaper section produced when the hospital opened in 1971.
"You can see the pride the community has around this organization," Waldrum said, flipping through the newspaper.
Among the greatest recent successes is the growth at what was once Kino Hospital, now UAMC-South Campus.
"The old Kino was on very shaky ground," he said. "It is now a vibrant and exciting place with a great culture. We have very strong physician and nursing and other staffing, providing a significant amount of high-level services."
There is also great opportunity at UAMC-University Campus – the 479-bed hospital that is ranked among the nation's top hospitals by U.S. News & World Report and typically ranks among the top 10 percent of academic medical centers for quality.
Waldrum said UA is known for success in trauma, transplant and innovation around new surgical procedures and robotics, among other specialties. "We have great research in a number of different areas and we are looking at finding new tests to diagnose diseases earlier.
"Our goal and objective is to create a place that patients, scientists and physicians in the Southwest are talking about."
Waldrum said the business community is an important partner.
"From an economic development standpoint, if you are trying to recruit a large company to a community, one of the first things most CEOs want to know is will their employees have access to excellent care?" Waldrum said.
He has met with members of Southern Arizona Leadership Coalition and Tucson Regional Economic Opportunities, as well as county leaders and the mayor.
"I see great things for Tucson and UAHN," Waldrum said.