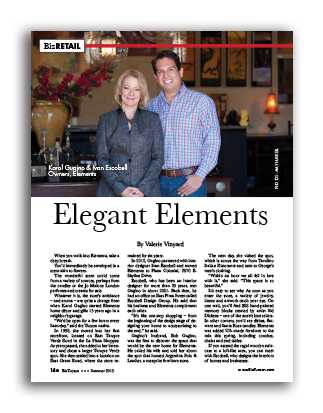 By Valerie Vinyard
When you walk into Elements, take a deep breath.
You'll immediately be enveloped in a scent akin to flowers.
The wonderful scent could come from a variety of sources, perhaps from the candles or the Jo Malone London perfumes and creams for sale.
Whatever it is, the store's ambiance – and aroma – are quite a change from when Karol Gugino started Elements home décor and gifts 15 years ago in a neighbor's garage.
"We'd be open for a few hours every Saturday," said the Tucson native.
In 1998, she moved into her first storefront, located on East Tanque Verde Road in the La Plaza Shoppes. As years passed, she added to her inventory and chose a larger Tanque Verde spot. She then settled into a location on East Grant Road, where the store remained for six years.
In 2012, Gugino partnered with interior designer Ivan Escobell and moved Elements to Plaza Colonial, 2870 E. Skyline Drive.
Escobell, who has been an interior designer for more than 20 years, met Gugino in about 2001. Back then, he had an office on East Pima Street called Escobell Design Group. He said that his business and Elements complement each other.
"It's like one-stop shopping – from the beginning of the design stage of designing your home to accessorizing to the end," he said.
Gugino's husband, Bob Gugino, was the first to discover the space that would be the new home for Elements. He called his wife and told her about the spot that housed Argentina Polo & Leather, a mesquite furniture store.
The next day, she visited the spot, which is across the way from Tavolino Italian Ristorante and next to George's men's clothing.
"Within an hour we all fell in love with it," she said. "This space is so beautiful."
It's easy to see why. As soon as you enter the store, a variety of jewelry, linens and artwork catch your eye. On one wall, you'll find $88 hand-painted memory blocks created by artist Sid Dickens – one of the store's best sellers. In other corners, you'll see dishes, flatware and Santa Rosa candles. Elements was added U.S.-made furniture to the mix this spring, including couches, chairs and end tables.
If you ascend the regal wooden staircase to a loft-like area, you can meet with Escobell, who designs the interiors of homes and businesses.
Over the years, Gugino has cultivated a solid base of loyal customers. Sheila Fox-Sanford is one of those people. She discovered Elements when it was at the Tanque Verde location and would pop in up to three times a week.
"I was working at a title company on the Eastside and I needed some really nice employee rewards and gifts, and I just fell in love with her shop," said Fox-Sanford, who is retired and sells her abstract paintings at Elements. "I went in, and I never wanted to leave."
When Fox-Sanford and her husband moved to a house they built in Starr Pass in 1996, items from Elements featured prominently throughout.
"Everything she had in her shop spoke to our house," Sanford-Fox said. "I have her things from the dining room to the master bath. She just has exquisite things." She especially likes the Sid Dickens memory tiles.
I think it was a good move for her," Fox-Sanford said. "A lot of people in the foothills now have better access."
Gugino agreed, noting that there's more walk-in traffic and the stores nearby complement each other. She enjoys the events that her store and neighboring businesses hold about once a month.
"Part of it is we have more exposure," she said of the new location, which also offers a bridal gift registry. "Plus, the economy's better and we get referrals."
Looking ahead, Gugino sees the furniture line of their business expanding, noting that "it's difficult to find unique pieces, and the sources are limited here."
She said Elements stands out because of its stellar customer service.
"We really value our customers," Gugino said. "We try to be fair and we try to be good for them. It keeps loyalty."