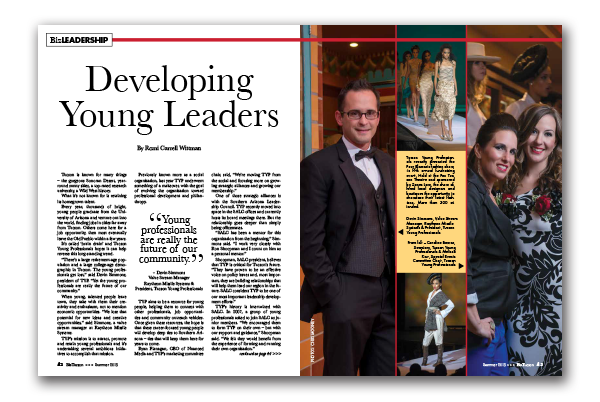 By Romi Carrell Wittman
Tucson is known for many things – the gorgeous Sonoran Desert, year-round sunny skies, a top-rated research university, a Wild West history.
What it's not known for is retaining its homegrown talent.
Every year, thousands of bright, young people graduate from the University of Arizona and venture out into the world, finding jobs in cities far away from Tucson. Others come here for a job opportunity, then most eventually leave the Old Pueblo within a few years.
It's called 'brain drain' and Tucson Young Professionals hopes it can help reverse this long-standing trend.
"There's a large retirement-age population and a large college-age demographic in Tucson. The young professionals get lost," said Devin Simmons, president of TYP. "Yet the young professionals are really the future of our community."
When young, talented people leave town, they take with them their creativity and enthusiasm, not to mention economic opportunities. "We lose that potential for new ideas and creative opportunities," said Simmons, a value stream manager at Raytheon Missile Systems.
TYP's mission is to attract, promote and retain young professionals and it's undertaking several ambitious initiatives to accomplish that mission.
Previously known more as a social organization, last year TYP underwent something of a makeover, with the goal of evolving the organization toward professional development and philanthropy.
TYP aims to be a resource for young people, helping them to connect with other professionals, job opportunities and community outreach vehicles. Once given these resources, the hope is that these career-focused young people will develop deep ties to Southern Arizona – ties that will keep them here for years to come.
Ryan Flanagan, CEO of Nuanced Media and TYP's marketing committee chair, said, "We're moving TYP from the social and focusing more on growing strategic alliances and growing our membership."
One of those strategic alliances is with the Southern Arizona Leadership Council. TYP recently moved into space in the SALC offices and currently hosts its board meetings there. But the relationship goes deeper than simply being officemates.
"SALC has been a mentor for this organization from the beginning," Simmons said. "I work very closely with Ron Shoopman and I count on him as a personal mentor."
Shoopman, SALC president, believes that TYP is critical for Tucson's future. "They have proven to be an effective voice on policy issues and, most important, they are building relationships that will help them lead our region in the future. SALC considers TYP to be one of our most important leadership development efforts."
TYP's history is intertwined with SALC. In 2007, a group of young professionals asked to join SALC as junior members. "We encouraged them to form TYP on their own – but with our support and guidance," Shoopman said. "We felt they would benefit from the experience of forming and running their own organization."
Since then, TYP members have attended SALC general and annual meetings and have served effectively on SALC's action committees.
The relationship with SALC puts TYP and its members in contact with CEOs and other heavy hitters in the community – in essence, today's leaders mentoring tomorrow's leaders. "We're steering the ship toward people that make decisions," Simmons said.
Many TYP members and board members are also graduates of Greater Tucson Leadership, a nonprofit, non-partisan leadership organization. GTL hosts an annual leadership class in which participants expand their knowledge of the Southern Arizona community, cultivate relationships and grow their leadership skills.
TYP has also forged connections with the Tucson Metro Chamber and the university. Flanagan said TYP takes an active role as a facilitator between college students about to graduate and the business community. "We just did a bus tour. We took students from the UA to different venues – just to get some experience seeing what different companies and jobs look like."
"Philanthropy is also an important focus for the group. For the past five years we've presented a fundraising fashion show that supports TYP. We also host lots of smaller events throughout the year where we partner with other nonprofits to help raise funds for their causes," Simmons said. 
The next item onTYP's to-do list is its membership plan. At roughly 2,000 people, the group boasts a healthy membership base. Now the TYP board is focused on offering different types of membership levels, providing a range of benefits and levels of engagement.
Though TYP has evolved, some things won't change. "Because we're younger, there will always be somewhat of a social focus," Flanagan said. "But there is also interest in growing other areas. It's not just one facet. It's a multi-faceted approach to engaging Tucson's young workforce."
SALC's Shoopman strongly believes in the TYP mission. "The Tucson Young Professionals are critical to the future of Tucson. TYP is a good reason for optimism in Southern Arizona."