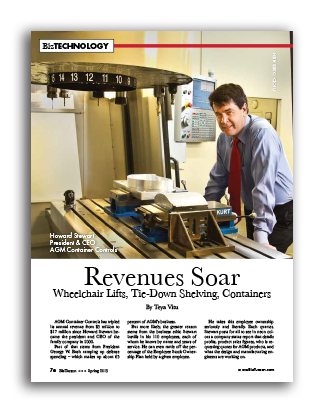 Revenues Soar – Wheelchair Lifts, Tie-Down Shelving, Containers
By Teya Vitu
AGM Container Controls has tripled its annual revenue from $5 million to $17 million since Howard Stewart became the president and CEO of the family company in 2000.
Part of that stems from President George W. Bush ramping up defense spending – which makes up about 65 percent of AGM's business.
But more likely, the greater reason stems from the business ethic Stewart instills in his 110 employees, each of whom he knows by name and years of service. He can even rattle off the percentage of the Employee Stock Ownership Plan held by a given employee.
He takes this employee ownership seriously and literally. Each quarter, Stewart posts for all to see in neon colors a company status report that details profits, product sales figures, who is requesting quotes for AGM products, and what the design and manufacturing engineers are working on.
"We want our employees to think like and act like owners," Stewart said. "I don't believe in holding information at the top. I believe information needs to be as widely disseminated as possible to positively affect decision making at all levels of the company."
The name is AGM Container Controls, but AGM has quirkily diversified beyond devices that control and monitor moisture, pressure and vacuum changes or shock and vibration in containers.
The company also designs and builds deluxe Ascension Wheelchair Lifts, prominently found at Disneyland and the New York City Department of Education; tie-down shelves found on all U.S. aircraft carriers and about 17 of 22 Navy cruisers; and missile desiccators that keep missile guidance systems from corroding.
AGM purchasing manager Shelly Hurley is one of many AGM employees who started at the bottom and worked their way up. She joined the company in 1985 as a production employee paid the company's minimum wage.
"When we went to the ESOP, we had the ability to impact the company in a whole different manner," Hurley said. "We are more aware of our individual roles and how we contribute to the overall prosperity of our company."
Stewart recognized older and younger generations have different ideas of what makes a business a great place to work. The older folks embrace traditional benefits, while the increasingly younger employees crave lifestyle benefits. Stewart has converted an outdoor patio into an enclosed gym. AGM has an Aeroball trampoline basketball setup for four players, and there is a ping pong table.
Stewart's approach has been recognized nationally with the Best Small Company in America award from the the U.S. Chamber of Commerce and locally with the Wells Fargo Copper Cactus Award for Best Place to Work. AGM has had no layoffs in 20 years, and Stewart has even formalized his no-layoff philosophy with a 13-point plan.
AGM Container Control moisture devices primarily focus on military containers carrying missiles or engines. Breather valves have been AGM's top-selling product every year, except 2006, since Stewart's parents Roger and Joyce Stewart founded the company in 1970. These valves control pressure or vacuum in containers holding missiles or engines. The same containers may also carry AGM humidity indicators and container desiccators.
Missile desiccators joined the AGM production line in the 1980s. In layman's terms, these are anti-fogging devices for cameras in missiles.
"When you're watching CNN or Fox," Stewart said, "and you're seeing a missile heading toward a target, you wouldn't be able to see that target without AGM's missile desiccators, which wick away the moisture from the camera. Otherwise, it would fog over like an iced tea glass. We're on virtually every missile system in the U.S. and Europe."
AGM was in the right place at the right time to tap into the 1990 Americans with Disabilities Act when it diversified into wheelchair lifts in 1994. Howard Stewart recalls someone came to them with the idea to improve the line of sight in theaters, and the AGM crew evolved that into the Ascension Wheelchair Lift, a deluxe product that comes with a 20-year warranty.
The first generation of lifts enabled wheelchair access to stages. Today, there are all sorts of uses for the 1,200 wheelchair lifts AGM now has in service, including churches, hotels and schools. The wheelchair lifts account for 12 to 18 percent of the company's revenue.
"The other super cool thing we do is tie-down shelving," Stewart said. "These hold electronics gear and communications systems in place on ships so those things don't become projectiles in the event the ship is hit by a missile, torpedo or when the ship hits a mine.
"When the USS Cole got hit in Yemen in 2000, they didn't have our shelving on board. Seventeen sailors got killed. They believe if they had our product on board, they would have lost only two sailors."
Howard Stewart grew up at AGM, which was launched when his parents were asked to spin off a small section of Arizona Gear Manufacturing that involved controller devices for containers and tie-down straps. They first called the new company AGM Cargo Ties until 1978, when it assumed the present name.
"I started in shipping – building breather valves and making tie-down straps. I was 12. I was paid $1 per hour and enough people thought I was overpaid," Stewart said.
He worked part time at AGM from age 12 to 24, but after college went off on his own. He did stints with the Christian Science Monitor and as a Peace Corps volunteer in Africa, where he contracted blackwater fever.
He returned to Tucson and owned Stewart's Ice Cream for several years at the corner of Speedway and Campbell, where the University of Arizona sign is now. Stewart said it was the busiest ice cream shop in the Southwest.
The Speedway widening leveled the ice cream shop. Stewart now needed a job. AGM had an opening in the purchasing department, so he returned to AGM in 1989.
"My parents didn't see me as a viable successor. It had to be pointed out by my aunt that I had potential," Stewart said.
In the 1990s, he took on sales and marketing for packaged desiccants, increasing sales from $15,000 to $1.5 million, and then the wheelchair lifts. He started writing the quarterly status report while serving as marketing VP. In 1997, Stewart became executive VP and has essentially run the company since then, officially taking on the chief executive mantle in 2000.
Stewart's hallmark has been empowering employees.
"I believe in openly sharing information with employees and delegating responsibilities," he said. "I am a strong advocate for employee ownership."