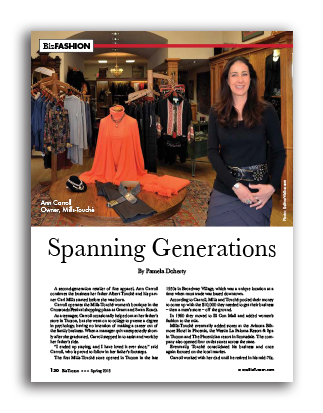 By Pamela Doherty
A second-generation retailer of fine apparel, Ann Carroll continues the business her father Albert Touché and his partner Carl Mills started before she was born.
Carroll operates the Mills-Touché women's boutique in the Crossroads Festival shopping plaza at Grant and Swan Roads.
As a teenager, Carroll occasionally helped out at her father's store in Tucson, but she went on to college to pursue a degree in psychology, having no intention of making a career out of the family business. When a manager quit unexpectedly shortly after she graduated, Carroll stepped in to assist and work by her father's side.
"I ended up staying, and I have loved it ever since," said Carroll, who is proud to follow in her father's footsteps.
The first Mills-Touché store opened in Tucson in the late 1950s in Broadway Village, which was a unique location at a time when most trade was based downtown.
According to Carroll, Mills and Touché pooled their money to come up with the $10,000 they needed to get their business – then a men's store – off the ground.
In 1960 they moved to El Con Mall and added women's fashion to the mix.
Mills-Touché eventually added stores at the Arizona Biltmore Hotel in Phoenix, the Westin La Paloma Resort & Spa in Tucson and The Phoenician resort in Scottsdale. The company also opened four outlet stores across the state.
Eventually, Touché consolidated his business and once again focused on the local market.
Carroll worked with her dad until he retired in his mid-70s, turning the business over to her 10 years ago. Today Carroll's mother lends a hand at the store several hours a week.
"My father taught me that the key to success is a focus on service. He would go out of his way for people, and treated them as he would want to be treated," Carroll said.
Carroll has taken her father's timeless advice to heart. She offers in-house tailoring and complimentary gift wrapping. Carroll will personally deliver special orders to customers' homes, and she sometimes buys merchandise with particular clients in mind.
Carroll's store features clothing suitable to the local climate and culture – what she describes as a classic yet casual style. Mills-Touché also sells a unique line of ranch wear.
"Nothing here is mass produced," she said.
Like other small retailers, Carroll's business has slowed during the last four years, but customers – women ages 35 to 80 years old – have remained loyal. "Unfortunately, several of my contemporaries did not survive the recession," Carroll said.
After 27 years in the business, Carroll has lived through the expansion and contractions of economic cycles and says her experience has enabled her to remain patient and calm. She also adjusted her buying strategy – scaling back on the volume of inventory while buying more frequently to ensure that merchandise moves quickly.
Carroll said it is highly unlikely that any of her three children will want to take over the business someday – but she and her parents are at peace with that.
"I will keep running the store as long as it is profitable and enjoyable. After that, who knows?" she said.
In addition to managing her long-standing business, Carroll is active with several local charities, including Tucson Hebrew Academy. She can also be found out in the community supporting the endeavors of her husband, Pima County Supervisor Ray Carroll.