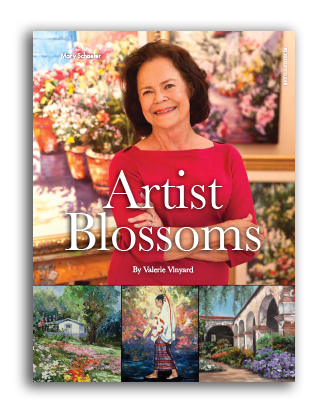 By Valerie Vinyard
As soon as you walk into Mary Schaefer's home, you know an artist lives there.
After being greeted at the door by 7-year-old Lulu, an effusive yellow Labrador retriever, you notice paintings upon paintings adorning the walls of the warm midtown home where she and her husband have lived for 48 years.
Then you enter her well-lit studio toward the rear of the house, where about 80 more of her works hang on its walls. Her Western artwork is a riot of color and includes landscapes, flowers, burros, houses and a few people. Many of her works focus on one realistic figure with the rest of the painting seamlessly flowing into Impressionism. People wouldn't be out of line thinking they see touches of Vincent Van Gogh or Claude Monet in her works.
You notice how spotless the light-colored floors are in her studio, and Schaefer proudly shows how careful she coaxes the pricey oil paints out of the many tubes scattered around her easel.
Oil paints are the only kind she uses. "Oil is the classic medium," Schaefer said. "You can see (my paintings) have a life of their own."
Clusters of pictures of Schaefer with George W. Bush, Laura Bush and other politicians line one of the walls. Schaefer noted that one of her prints of San Xavier (pictured here to the right) hung in the White House during the second Bush's tenure.
Born in Laredo, Texas, Schaefer started painting later than most – in her 50s – but her husband said that her immediate affinity with the medium made it difficult to tell.
"I thought she started out way ahead of a lot of them who had been doing it for years," Art Schaefer said.
Her originals today are priced from $950 to $10,000, with the average going for $3,000 to $4,000. Prints are priced considerably lower.
"I never realized I had talent," said the onetime star tennis player and swimmer. "I must have had something there – I just never recognized it."
Some of Schafer's works have been made into tapestries, posters, giclee prints and notecards. She created former Arizona Congressman Jim Kolbe's last Christmas card when he was in office.
"I started quite late because I traveled half the year for 15 years all over North and South America with Art," Schaefer said, because of her husband's job as a mining engineer safety director for Asarco. "Whether I was in New York City or the jungles of Nicaragua, I would take something to sketch." Schaefer also shot a lot of photography.
She took classes from a private instructor for a couple of years, then moved on to workshops in Taos and Scottsdale. She loves art museums – especially the Art Institute of Chicago.
Schaefer first hooked up with a Scottsdale studio 24 years ago to showcase her work. She since has left galleries and now paints for Joan Cawley Publishing in Scottsdale and Bentley Global Arts Group, a fine art publishing company headquartered in Austin.
Judith Miller, former owner and director of Rosequist Galleries, entered the art business in 1978 and began representing Schaefer in the mid-to-late '80s.
"What has always stood out about her is the strength of her paintings," said Miller, who has known Schaefer since high school. "Mary's paintings are 'Pow!' right there – but there is a gentleness with it that you don't find with many other artists known for their gardens."
When Mary met Art while a student at the University of Arizona, she liked to do tiles and mosaics or "crafty-type things." She graduated from UA with a degree in elementary education, and she taught for 13-plus years.
Art, now retired, is working on his first book, chronicling his 33 missions in Germany during World War II.
Schaefer also has authored a book –
"The Life That Gave Me Art" – which she published in 2006. It's an impressive coffee-table book of some of her 600-plus photographs and paintings.
She's participated for years in the Annual Contemporary Western Art Show and Sale at the Mountain Oyster Club in Tucson, which has made her an honorary artist member. She said the show features 200 artists and is regarded as one of the top Western art shows in the nation.
Mary Parnell met Schaefer at the club about 10 years ago and considers herself lucky enough to own two Schaefer paintings and her book. Over the years, the upstate New York native has formed an appreciation for "pieces that pop out at you."
"You just fall in love with them," said Parnell of Schaefer's paintings. "They're just happy beautiful paintings you love to have in your home."
One of the paintings is of her garden, with "pots and happy flowers," while the other is "a happy lonely little shed in a field with little daisies."
Schaefer shows more works every year at the Empire 100 Western Art Show and Sale, which runs mid-January through February, this year at Northern Trust, 6444 E. Tanque Verde Rd. The sale supports preservation of the historic ranch near Sonoita and will feature about 200 Western artists.
Though no longer affiliated with any galleries, Schaefer still does some commissions.
"It's usually people who have lived in their family home for many years and want a painting of it," Schaefer said.
The avid gardener also speaks to many gardening groups in town and hosts occasional tours of her vibrant backyard garden that is bursting with 250 pots of flowers.
"I use my garden for my work," said Schaefer, noting she prefers the "showy flowers that flower all the time."
Schaefer remains active in charities, too, and donates paintings and prints to such organizations as the Arizona-Sonora Desert Museum, Tu Nidito Children and Family Services and Angel Charity for Children.
"I feel very strongly that charity begins at home," she said in a recent e-mail. "I prefer to help my own community first."