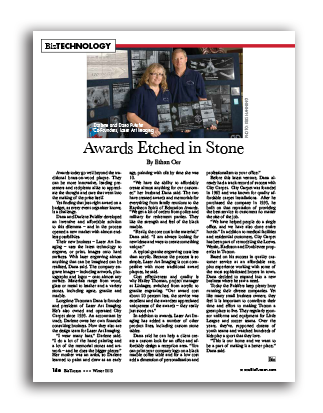 By Ethan Orr
Awards today go well beyond the traditional brass-on-wood plaque. They can be more innovative, leading presenters and recipients alike to appreciate the thought and care that went into the making of the prize itself.
Yet finding that just-right award on a budget, as every event organizer knows, is a challenge.
Dana and Darlene Pulsifer developed an inventive and affordable solution to this dilemma – and in the process opened a new market with almost endless possibilities.
Their new business – Laser Art Imaging – uses the latest technology to engrave, or print, images onto hard surfaces. With laser engraving almost anything that can be imagined can be realized, Dana said. The company engrave images – including artwork, photographs and logos – onto almost any surface. Materials range from wood, glass or metal to leather and a variety stones, including agate, granite and marble.
Longtime Tucsonan Dana is founder and president of Laser Art Imaging. He's also owned and operated City Carpet since 1993. An accountant by trade, Darlene owns her own financial consulting business. Now they also are the design team for Laser Art Imaging.
"I wear many hats," Darlene said. "I do a lot of the hand painting and a lot of the memorial stones and artwork – and he does the bigger pieces." Her mother was an artist, so Darlene learned to paint and draw at an early age, painting with oils by time she was 10.
"We have the ability to affordably create almost anything for our customer," her husband Dana said. The two have created awards and memorials for everything from family reunions to the Raytheon Spirit of Education Awards. "We get a lot of orders from police and military for retirement parties. They like the strength and feel of the black marble.
"Really, the core cost is the material," Dana said. "I am always looking for new ideas and ways to create something unique."
A typical granite engraving costs less than acrylic. Because the process is so simple, Laser Art Imaging is cost competitive with more traditional award plaques, he said.
Cost effectiveness and quality is why Hailey Thoman, project manager at Linkages, switched from acrylic to granite engraving. "Our award cost about 20 percent less, the service was excellent and the awardees appreciated uniqueness of the awards – they really just stood out."
In addition to awards, Laser Art Imaging has added a number of other product lines, including custom stone tables.
Dana said he can help a client create a custom look for an office and affordably design a reception area. "You can print your company logo on a black marble coffee table and for a low cost add a dimension of personalization and professionalism to your office."
Before this latest venture, Dana already had a track record of success with City Carpet. City Carpet was founded in 1963 and was known for quality affordable carpet installations. After he purchased the company in 1993, he built on that reputation of providing the best service to customers no matter the size of the job.
"We have helped people do a single office, and we have also done entire hotels." In addition to medical facilities and residential customers, City Carpet has been part of remodeling the Loews, Westin, Radisson and Doubletree properties in Tucson.
Based on his success in quality customer service at an affordable rate, plus experience working with some of the most sophisticated buyers in town, Dana decided to expand into a new business where he saw a need.
Today the Pulsifers keep plenty busy running their diverse companies. Yet like many small business owners, they feel it is important to contribute their time and effort to making Tucson a great place to live. They regularly sponsor uniforms and equipment for Little League and soccer teams. Over the years, they've, supported dozens of youth teams and watched hundreds of kids play a sport that they love.
"This is our home and we want to be a part of making it a better place," Dana said.