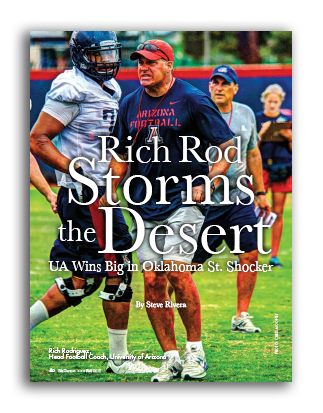 Rich Rod Storms the Desert UA Wins Big in Oklahoma St. Shocker
By Steve Rivera
The Whiz Kid from West Virginia has started to work his magic in the Arizona desert.
Let the fun – and the stun – begin.
Sure it's a weird fit, but Rich Rodriguez has a knack for finding a way to fit in.
All Arizona fans are looking for is someone who is engaging, dynamic and personable. And, of course, someone who can pull off victories when no one else says it's possible.
Voila! Rodriguez orchestrated his first miracle in Arizona Stadium – beating No. 18 Oklahoma State 59-38 for Arizona's first win against a ranked team in two seasons.
Undersized and seemingly undermanned, Arizona outquicked, outplayed and, well, outdid the Cowboys in a victory that has Arizona relevant again, even if for the moment.
"We'll have to be comfortable being uncomfortable. I was uncomfortable all night,'' said Rodriguez, 49. "But it was a nice win. The guys played hard.''
And that's all he's asking. In addition to being tough, smart and efficient.
And, oh yes, don't forget that it's a process to make progress.
It's about moving the ball behind his ball-is-everywhere offense and stopping opponents with a gritty, determined bunch that has to overachieve every play.
Play like it's your last play. Play with a purpose. And play together. So far, so good.
"The first year is always the toughest because of the preparation,'' Rodriguez said. "Things have come together as well as I have hoped.''
What he has done is ingratiate himself to Tucson. When he arrived last November, he was everywhere. From function to function he went. Have speaker, will travel – working his one-liner magic on a number of organizations, including the Southern Arizona Football Hall of Fame awards banquet and the Boys & Girls Clubs of Tucson Steak & Burger Dinner.
"Being in the public is part of a head coach's job but there is a refreshing level of authenticity about Coach Rodriguez,'' said Armando Rios, the clubs' CEO. "He took a sincere interest in our kids and our organization. He did everything we asked of him and agreed to host our dinner again next year for the kids. Also, he made it a point to include his family, which so many people admired about him.''
It's a sign of a winner. Now, he must get there for Arizona, a team coming off a 4-8 year with plenty of rebuilding to do.
Rodriguez is working his tail off in his rebirth as a coach and what amounts to a second chance after his Michigan experience, with rules violations and a messy departure.
First, just as any good businessman would say: the mentality of the company – in this case team – must buy into what it has to sell. And at Arizona, it's about winning, and winning consistently. The Wildcats didn't do that enough under former coach Mike Stoops.
In comes Rodriguez, a smooth-talking storyteller who has a quick wit and a sometimes self-effacing take on things.
Still, Rodriguez, who had West Virginia on the brink of a national title a handful of years ago, has an ego, like most good coaches do.
"There's never a day at my job where I don't say, 'What are my competitors doing? Can I do this better?' And that's in football, recruiting, developing players …''
Rodriguez is frequently at the podium talking about the future of Arizona football. Athletic Director Greg Byrne knew exactly what he was getting when he plucked him from his sports analyst job with CBS.
Affable. Available, with a can-do attitude. If you're going to dream, why not dream big?
"Why not Arizona?'' Rodriguez has said a number of times.
Why not the Rose Bowl? Why not a BCS Bowl appearance? Why not a national championship?
Why not, indeed?
Byrne likes what he hears. "Arizona has a great chance to be successful,'' Byrne said. "We have so many strengths here, including the environment, weather, great academics and a good fan base.
"Arizona teams have won a lot of national championships in other areas (so) why not come out here for football?''
Arizona and Byrne are making sure the digs won't be a problem, with the multi-million revamping of Arizona Stadium. It'll include turf, where speed will thrill and maybe, in time, kill (offensively).
How Arizona reacts to Rodriguez's spread offense behind senior Matt Scott will be the key.
Rodriguez already has said the "huddle is the biggest waste of time in football.''
And Rodriguez isn't one to waste time. "Our coaches understand, as do our players, that anything worth value is worth working for.''
Again, Byrne likes what he hears.
"He was the best fit for this job,'' said Byrne, who hired the West Virginia native to the tune of $9.5 million for five years. "He's competed at the highest levels. I didn't feel he was a good fit at Michigan. We're very pleased in what he's done from a commitment standpoint, and that's athletically and academically.''
Now, if Rodriguez can get the commitment he's hoping for from his players.
"We have to establish a Rose Bowl-type culture here,'' Rodriguez said. "As hard as we've worked, we have to work even harder.''