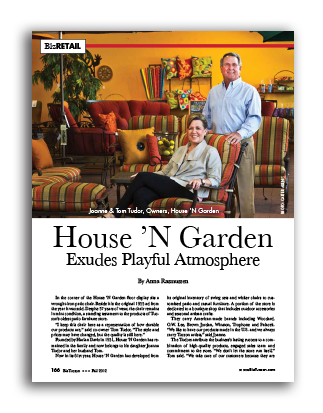 House 'N Garden Exudes Playful Atmosphere
By Anna Rasmussen –
In the corner of the House 'N Garden floor display sits a wrought-iron patio chair. Beside it is the original 1955 ad from the year it was sold. Despite 57 years of wear, the chair remains in mint condition, a standing testament to the products of Tucson's oldest patio furniture store.
"I keep this chair here as a representation of how durable our products are," said co-owner Tom Tudor, "The style and prices may have changed, but the quality is still here."
Founded by Harlan Davis in 1951, House 'N Garden has remained in the family and now belongs to his daughter Joanna Tudor and her husband Tom.
Now in its 61st year, House 'N Garden has developed from its original inventory of swing sets and wicker chairs to customized patio and casual furniture. A portion of the store is dedicated to a boutique shop that includes outdoor accessories and seasonal artisan crafts.
They carry American-made brands including Woodard, O.W. Lee, Brown Jordan, Winston, Tropitone and Palacek. "We like to have our products made in the U.S. and we always carry Tucson artists," said Joanne.
The Tudors attribute the business's lasting success to a combination of high-quality products, engaged sales team and commitment to the store. "We don't let the store run itself," Tom said. "We take care of our customers because they are our customers, not the manufacturer's."
House 'N Garden also offers free onsite outdoor consultations with an exterior designer. "They are personal, thoughtful and have good aesthetic judgment," said Nils Hasselmo, a customer of House 'N Garden who's used their patio consultation service. "They have helped greatly with color, design and finding products that are both durable and attractive."
Unlike most patio furniture, which is purchased in a complete set, House 'N Garden works to create a unique and personalized outdoor living room for clients.
In addition, everything is serviced and delivered directly from the store.
The Tudors have worked with manufactures on many of their designs to create products relevant to Southwestern clientele. One set of wrought-iron furniture is simply called "The Tucson."
Adapting to the climate of Arizona, House 'N Garden carries fabrics that are resistant to sun and water damage. "We try to match the fabric with the colors of the desert – sandy tones, reds that match flagstone and muted greens," Tom said.
"We are interested in customizing each piece so that it can have a real personal feel," said Joanne.
The Tudors use a combination of social media and word-of-mouth referrals to maintain a steady client base. In the past year they've also updated their website which gives a comprehensive catalog of all the store's products, including images and sizing options.
Returning customers and referrals remain the primary marketing focus. "When we do our job well and make someone happy, that's the best advertising we can get," said Joanne.
Despite changes in the market they've been able to alter buying methods to accommodate the demands of customers and make economical decisions regarding price and scale.
Looking towards the future, the Tudors are optimistic. "We've created a great, fun atmosphere here," said Joanne, "We like what we do because we enjoy working with each other, our staff and our customers."