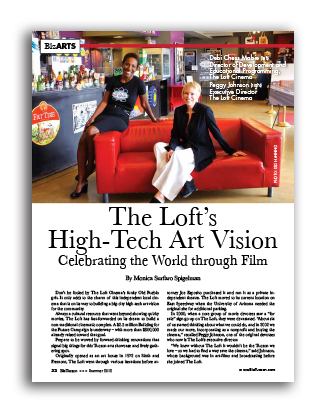 The Loft's High-Tech Art Vision Celebrating the World through Film
By Monica Surfaro Spigelman –
Don't be fooled by The Loft Cinema's funky Old Pueblo grit. It only adds to the charm of this independent local cinema that is on its way to building a big-city high-tech art vision for the community.
Always a cultural resource that went beyond showing quirky movies, The Loft has fast-forwarded on its dream to build a non-traditional cinematic complex. A $2.5 million Building for the Future Campaign is underway – with more than $800,000 already raised toward that goal.
Prepare to be wowed by forward-thinking renovations that signal big things for this Tucson arts showcase and lively gathering spot.
Originally opened as an art house in 1972 on Sixth and
Fremont, The Loft went through various iterations before attorney Joe Esposito purchased it and ran it as a private independent theatre. The Loft moved to its current location on East Speedway when the University of Arizona needed the original site for additional parking.
In 2000, when a core group of movie devotees saw a "for sale" sign go up on The Loft, they were devastated. "About six of us started thinking about what we could do, and in 2002 we made our move, incorporating as a nonprofit and buying the cinema," recalled Peggy Johnson, one of the original devotees who now is The Loft's executive director.
"We knew without The Loft it wouldn't be the Tucson we love – so we had to find a way save the cinema," said Johnson, whose background was in art-films and broadcasting before she joined The Loft.
That core group formed The Tucson Cinema Foundation and became The Loft's new owners. Next step was ensuring a programming mix of critically acclaimed foreign and independent features and documentaries. Then the foundation further enhanced the experience with visiting filmmakers, collaborations with community groups, film festivals (including the free nine-day Tucson International Children's Film Festival), film series (including First Friday Shorts – now in its eighth year, Late Night Cult Classics and Mondo Mondays) and more.
Even with all the arts initiatives, The Loft needed to keep its edge. Running 220+ first-run films a year and 115 special events was taking a toll on the small physical space.
The Building for the Future Campaign, Johnson said, will allow expansion, improve accessibility, make necessary repairs and update digital technology.
"We are repurposing and renovating as much as possible," Johnson said. "We want to give the community ways to experience art and ideas from around the world in a venue that not only retains the neighborhood character but makes it a more exciting and fun place to live, work and visit."
The Loft's Building for the Future projects will be completed in three phases. First is revamping the adjacent J&L automotive repair shop, which will transition into a state-of-the-art black box theatre, with two fully accessible restrooms. An attached covered patio will be a flexible screening space for special events. Also moving ahead this summer is paving a new parking lot, located on adjacent vacant land the Foundation purchased in 2010.
The second phase will renovate the existing building. The Loft's main 500-seat theatre will have new seats, acoustical treatment and other improvements, including infrastructure wiring and air conditioning. The upstairs theatre is envisioned as a "living room" with sofas, armchairs and coffee tables positioned so that each has perfect sightlines.
According to Johnson, the entire complex will be a model of accessibility and technology. "We're consulting with local groups and individuals to ensure that The Loft accommodates every citizen," she said.
All three theatres also will have digital projection and sound, with an acoustical engineer consulting on the design. "This includes upgrading 35mm projection to include reel-to-reel so that we can borrow rare prints from archives," Johnson said.
The final phase will construct a connecting building between the existing Loft and the new black box facility. This will include a large lobby with a gallery, a larger box office and concession stand, more restrooms, offices and community meeting rooms.
A spate of standout events are planned when The Loft unveils Phase 1 this fall. A ribbon cutting for the black box theatre is planned during the Loft Film Festival (November 8-15), on the festival's closing night – which coincides with The Loft's 40th anniversary.
After the candles are blown out, The Loft expects to continue finding exciting ways to help celebrate the world through film, Johnson said. One goal is to make the film festival a destination festival with economic impact on the community. Another is to evolve The Loft's successful Science on Screen series into Science on Screen Jr. to help younger children build an interest in science.
All this reinforces support already received from donors, including Cox Communications, which made the lead gift to the campaign. "Arts and culture are the foundation of a livable community," said Lisa Lovallo, VP of Cox Communications. "A prosperous community that has good jobs, good governmental structure and good educational institutions also enjoys strong arts and culture."
Gadabout SalonSpas has pledged $20,000. "It is amazing when neighborhoods get together and make a commitment to better our community and support the arts of Tucson. It is great to look back at the end result and know that you made a difference," said Frank Westerbeke, Gadabout co-president.
Johnson sees The Loft's role as connective tissue in Tucson. "The Loft has the capacity to inspire, educate and bring the community together with the power of film," she said.