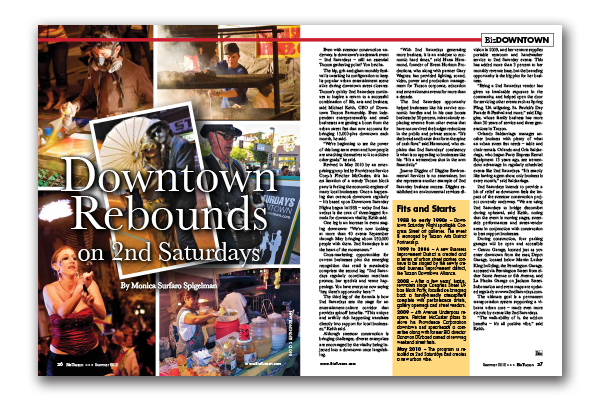 Downtown Rebounds on 2nd Saturdays
By Monica Surfaro Spigelman –
Even with streetcar construction underway, is downtown's trademark event – 2nd Saturdays – still an essential Tucson gathering point? You betcha.
The hip, grit-and-glam monthly festival is tweaking its configuration to keep its popular urban entertainment scene alive during downtown street closures.Tucson's quirky 2nd Saturdays continues to inspire a return to a successful combination of life, arts and business, said Michael Keith, CEO of Downtown Tucson Partnership. Even independent entrepreneurship and small businesses are getting a boost from the urban street fest that now accounts for bringing 15,000-plus downtown each month, he said.
"
We're beginning to see the power of this long-term event and how people are attaching themselves to it to achieve other goals," he said.
Revived in May 2010 by an enterprising group led by Providence Service Corp.'s Fletcher McCusker, this latest iteration of a trendy Tucson block party is fueling the economic engines of many local businesses. Once a happening that overtook downtown regularly – it's based upon Downtown Saturday Nights begun in1988 – today 2nd Saturdays is the crux of three-legged formula for downtown vitality, Keith said.
One leg is an increase in event staging downtown: "We're now looking at more than 40 events September through May bringing about 250,000 people with them. 2nd Saturdays is at the heart of the momentum."
Cross-marketing opportunities for current businesses plus the emerging recognition that retail is sustainable comprises the second leg. "2nd Saturdays regularly coordinates merchant promos, bar specials and venue happenings. You have everyone now saying 'hey, there's opportunity here.'"
The third leg of the formula is how 2nd Saturdays sets the stage for an entertainment-culture corridor that provides spinoff benefits. "This unique and artfully rich happening translates directly into support for local businesses," Keith said.
Although streetcar construction is bringing challenges, diverse enterprises are encouraged by the vitality being injected into a downtown once languishing.
"With 2nd Saturdays generating more business, it is an antidote to economic hard times," said Huna Hammond, founder of Event Horizon Productions, who along with partner Gary Wagner, has provided lighting, sound, video, power and production management for Tucson corporate, education and entertainment events for more than a decade.
The 2nd Saturdays opportunity helped businesses like his survive economic hurdles and in his case boosts business by 30 percent, miraculously replacing revenue from other events that have not survived the budget reductions in the public and private sectors. "It's the bread and butter that form the spine of cash flow," said Hammond, who explains that 2nd Saturdays' consistency is what is so appealing to businesses like his. "It's a tremendous shot in the arm financially."
Joanne Diggins of Diggins Environmental Services is no entertainer, but she represents another example of 2nd Saturday business success. Diggins established an environmental services division in 2009, and her venture supplies portable restroom and handwasher service to 2nd Saturday events. This has added more than 3 percent to her monthly revenue base, but the branding opportunity is the big plus for her business.
"Being a 2nd Saturdays vendor has given us invaluable exposure in the community, and helped open the door for servicing other events such as Spring Fling, UA tailgating, St. Patrick's Day Parade & Festival and more," said Diggins, whose family business has more than 30 years of service and three generations in Tucson.
Orlando Saldarriaga manages another business with plenty of what an urban street fest needs – table and chair rentals. Orlando and Cria Saldarriaga, who began Party Express Rental Equipment 13 years ago, see tremendous advantage in regularly scheduled events like 2nd Saturdays. "It's exactly like having a gem show, only business is every month," said Saldarriaga.
2nd Saturdays intends to provide a bit of relief as downtown feels the impact of the streetcar construction project currently underway. "We are using 2nd Saturdays to bridge discomfort during upheaval, said Keith, noting that the event is moving stages, street-side performances and street-vendor areas in conjunction with construction to best support businesses.
During construction, four parking garages will be open and accessible – Centro Garage, located just as you enter downtown from the east; Depot Garage, located below Martin Luther King building; the Pennington Garage, accessed via Pennington Street from either Stone Avenue or 6th Avenue, and La Placita Garage on Jackson Street. Information and event maps are updated regularly at www.2ndSaturdays.com.
The ultimate goal is a permanent transportation system supporting a vibrant urban core – made even more electric by events like 2nd Saturdays.
"The walk-ability of it, the add-on benefits – it's all positive vibe," said Keith.