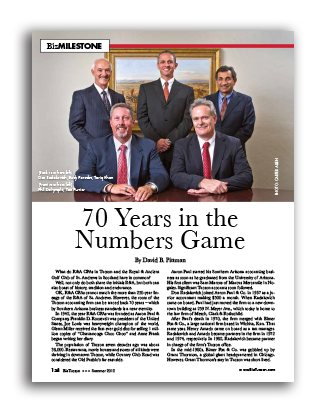 70 Years in the Numbers Game
By David B. Pittman –
What do R&A CPAs in Tucson and the Royal & Ancient Golf Club of St. Andrews in Scotland have in common?
Well, not only do both share the initials R&A, but both can also boast of history, tradition and endurance.
OK, R&A CPAs cannot match the more than 250-year lineage of the R&A of St. Andrews. However, the roots of the Tucson accounting firm can be traced back 70 years – which by Southern Arizona business standards is a near eternity.
In 1942, the year R&A CPAs was founded as Aaron Paul & Company, Franklin D. Roosevelt was president of the United States, Joe Louis was heavyweight champion of the world, Glenn Miller received the first-ever gold disc for selling 1 million copies of "Chattanooga Choo Choo" and Anne Frank began writing her diary.
The population of Tucson seven decades ago was about 38,000. Restaurants, movie houses and stores of all kinds were thriving in downtown Tucson, while Country Club Road was considered the Old Pueblo's far east side.
Aaron Paul started his Southern Arizona accounting business as soon as he graduated from the University of Arizona. His first client was Sam Marcus of Marcus Mercantile in Nogales. Significant Tucson accounts soon followed.
Don Radakovich joined Aaron Paul & Co. in 1967 as a junior accountant making $500 a month. When Radakovich came on board, Paul had just moved the firm to a new downtown building at 259 N. Meyer Ave., which today is home to the law firm of Mesch, Clark & Rothschild.
After Paul's death in 1970, the firm merged with Elmer Fox & Co., a large national firm based in Wichita, Kan. That same year, Henry Amado came on board as a tax manager. Radakovich and Amado became partners in the firm in 1972 and 1974, respectively. In 1982, Radakovich became partner in charge of the firm's Tucson office.
In the mid-1980s, Elmer Fox & Co. was gobbled up by Grant Thornton, a global giant headquartered in Chicago. However, Grant Thornton's stay in Tucson was short lived.
"Grant Thornton specialized in selling management services," Radakovich said. "The Tucson market at that time was proprietary. We served many high-net-worth people, who owned businesses, and we did just about everything for them personally from an accounting perspective, but they just didn't need a lot of sophisticated management services work. As a result, Grant Thornton quickly lost interest in the Tucson marketplace."
In 1986, the partners acquired the firm from Grant Thornton and it once again became a Tucson-owned business operating as Radakovich and Amado. The partners at that time were Radakovich, Amado, Greg Anderson, Jeff Stephenson and Charlie Charvoz.
"We had to pay them (Grant Thornton) for clients we had brought in over two decades," Radakovich said. "We started off as Radakovich and Amado, but every young partner we brought in wanted his name on the door. It didn't take long before we needed a whole page for all the partners' names. That's when we decided to shorten it to R&A CPAs."
Throughout the 1970s and 1980s, the firm operated out of several locations, all of which were in downtown Tucson. In 1989, the business moved to its present site at 4542 E. Camp Lowell Drive.
Today, the partners of R&A CPAs are Radakovich, Tom Furrier, Tariq Khan, Phil Dalrymple and Rudy Paredes. With 35 employees, R&A is among the largest accounting firms in Tucson.
R&A CPAs reflects old-school business practices, such as the value of building long-lasting and meaningful business relationships with clients.
"We often tell our clients that we want their hat, so we can put it on and better understand what they're all about," said Radakovich. "It isn't really their hat we want, it's their trust. We need to know what they do, how they feel and what they want so that we are in a position to utilize the expertise we have and say, 'if I were you, this is what I would do.' "
While most clients first come to the firm for a basic service, such as a tax return or a financial statement, the relationship often grows and strengthens over time.
Many long-term clients speak to R&A accountants about their investment returns, spending patterns, charitable activities, educational goals and insurance needs. The accountants at R&A often become trusted business advisors.
R&A is also on the cutting edge of the industry. In addition to traditional accounting services – such as taxes, auditing and business consulting – R&A also offers services including forensic accounting, federal acquisition regulations compliance, international taxation and its new Integrated Business System Division tailored to small business owners.
Now celebrating its 70th anniversary, the Tucson accounting firm that has operated under many incarnations has been characterized by constant development.
"Today our firm is known as R&A CPAs and we're just getting started," Radakovich said. "Just like the beach at the ocean – we are always there, but ever changing."