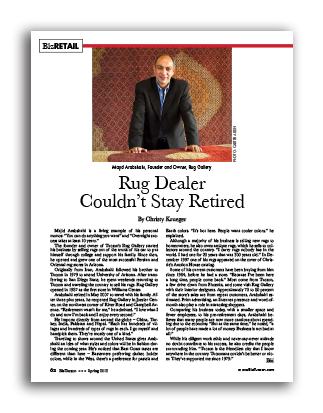 Rug Dealer Couldn't Stay Retired
By Christy Krueger –
Majid Arabshahi is a living example of his personal mottos: "You can do anything you want" and "Overnight success takes at least 10 years."
The founder and owner of Tucson's Rug Gallery started his business by selling rugs out of the trunk of his car to put himself through college and support his family. Since then, he opened and grew one of the most successful Persian and Oriental rug stores in Arizona.
Originally from Iran, Arabshahi followed his brother to Tucson in 1979 to attend University of Arizona. After transferring to San Diego State, he spent weekends returning to Tucson and traveling the country to sell his rugs. Rug Gallery opened in 1987 as the first store in Williams Center.
Arabshahi retired in May 2007 to travel with his family. After three-plus years, he reopened Rug Gallery in Joesler Center, on the northwest corner of River Road and Campbell Avenue. "Retirement wasn't for me," he admitted. "I love what I do and now I'm back and I enjoy every second."
He imports directly from around the globe – China, Turkey, India, Pakistan and Nepal. "Each has hundreds of villages and hundreds of types of rugs in each. I go myself and handpick them. They're mostly one of a kind."
Traveling to shows around the United States gives Arabshahi an idea of what styles and colors will be in fashion during the coming year. He's noticed that East Coast tastes are different than here – Easterners preferring darker, bolder colors, while in the West, there's a preference for pastels and Earth colors. "It's hot here. People want cooler colors," he explained.
Although a majority of his business is selling new rugs to homeowners, he also owns antique rugs, which he sells to collectors around the country. "I carry rugs nobody has in the world. I had one for 20 years that was 300 years old." In December 1997 one of his rugs appeared on the cover of Christie's Auction House catalog.
Some of his current customers have been buying from him since 1984, before he had a store. "Because I've been here a long time, people come back." Most come from Tucson, a few drive down from Phoenix, and some visit Rug Gallery with their interior designers. Approximately 70 to 80 percent of the store's sales are from repeat customers, Arabshahi estimated. Print advertising, an Internet presence and word-of-mouth also play a role in attracting shoppers.
Comparing his business today, with a smaller space and fewer employees, to his pre-retirement days, Arabshahi believes that many people are now more cautious about spending due to the economy. "But at the same time," he noted, "a lot of people have made a lot of money. Business is not bad at all."
While his diligent work ethic and never-say-never attitude no doubt contribute to his success, he also credits the people surrounding him. "Tucson is the friendliest city that I know anywhere in the country. Tucsonans couldn't be better or nicer. They've supported me since 1979."