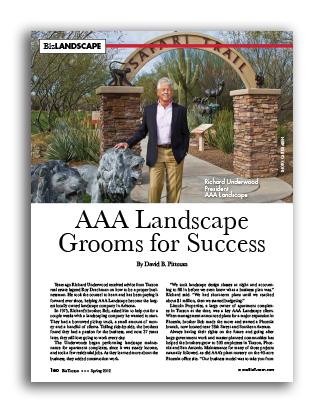 AAA Landscape Grooms for Success
By David B. Pittman –
Years ago Richard Underwood received advice from Tucson real estate legend Roy Drachman on how to be a proper businessman. He took the counsel to heart and has been paying it forward ever since, helping AAA Landscape become the largest locally owned landscape company in Arizona.
In 1975, Richard's brother, Bob, asked him to help out for a couple weeks with a landscaping company he wanted to start. They had a borrowed pickup truck, a small amount of money and a handful of clients. Toiling side-by-side, the brothers found they had a passion for the business, and now, 37 years later, they still love going to work every day.
The Underwoods began performing landscape maintenance for apartment complexes, since it was steady income, and took a few residential jobs. As they learned more about the business, they added construction work.
"We took landscape design classes at night and accounting to fill in before we even knew what a business plan was,"
Richard said. "We had short-term plans until we reached about $1 million, then we started budgeting."
Lincoln Properties, a large owner of apartment complexes in Tucson at the time, was a key AAA Landscape client. When management announced plans for a major expansion in Phoenix, brother Bob made the move and started a Phoenix branch, now located near 38th Street and Southern Avenue.
Always having their sights on the future and going after large government work and master-planned communities has helped the brothers grow to 500 employees in Tucson, Phoenix and San Antonio. Maintenance for many of those projects naturally followed, as did AAA's plant nursery on the 40-acre Phoenix office site. "Our business model was to take you from concept to maintenance seamlessly," Richard said.
When asked by an employee how he handles the recession, Richard responded, laughing, "We do a new five-year plan every three months."
The Underwoods have always been proactive. They hired landscape designers in each market who returned to properties they'd built years before and proposed redesigns to spruce up the landscaping. The brothers also started taking residential jobs again, something they'd abandoned in earlier years when they got busy with the larger work.
"Another thing we're doing is recapturing outdoor
spaces," Richard said. "A lot of boomers have pools they may no longer use. We fill in the pool and build outdoor living areas with patios, kitchens and barbecues. We give them their outdoor space back."
Sustainability is an angle AAA has recently approached. LEED certification in landscaping takes into account water issues, such as harvesting and plant selection and orientation.
A notable project built by the company and donated to the University of Arizona is the Underwood Family Sonoran Landscape Laboratory at the College of Architecture and Landscape Architecture. It includes a water-harvesting tank that overflows into a pond where native water plants and endangered fish, frogs and salamanders co-exist. "It's a model of sustainability and it won an international award," Richard said.
Drip irrigation supplements the rainwater on the project. Smart timers read the humidity and adjust the water accordingly. Watering systems have advanced significantly. "My foremen can change the programs on customers' timers from their laptops."
In comparing Tucson to Phoenix, Richard sees our community as less progressive. "Phoenix is where all the money is. They have a business-friendly atmosphere and people with vision." He points to downtown Phoenix projects such as the light rail, sports arenas, UA College of Medicine – Phoenix and the rise of multi-use buildings along the light rail line as examples.
That said, he feels fortunate to live in our community. "Tucson has great projects. We have become more business friendly. Despite local politics, Tucson has quality developers like David Mehl, Bob Sharpe and Don Diamond. They go light on the land. They've created some great spaces."
Over the years, Richard has been active in Tucson, Sahuarita and other communities, supporting such groups as Southern Arizona Home Builders Association, Marana Food Bank, Southern Arizona Leadership Council, Northern Pima County Chamber of Commerce and Tucson Airport Authority.
His advice to others starting a business is to be committed to your passion, be clear about what you're selling, make a mission statement early on and refer to it when you find yourself floundering.
"And what Roy Drachman told me all those years ago: 'Always do what you say you'll do and give back to the community.' It's worked for me for 37 years."